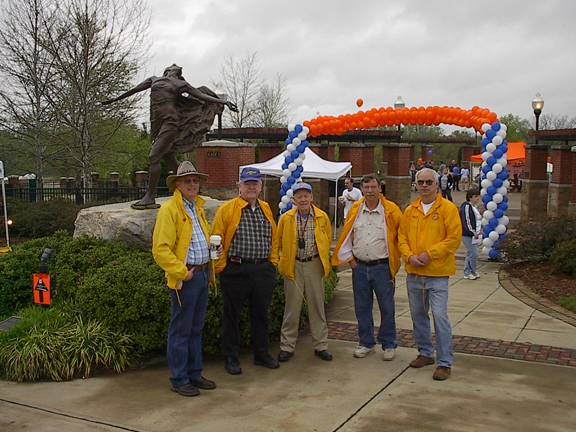 Pictured above are those who turned out to assist in communications for the walk: ROBERT COCKMAN-WD6ELK, JIM CAMPBELL-W4BQP, FRITZ NITSCH-W4NTO, LARRY THOMPSON-W4USC, and RANDY CLAIR-KI4CQO. NOT SHOWN: ART PATTERSON-KE4EAN, and STEVE WILZBACHER-K4SAW.
April 12th..... Well as we all know, the Multiple Sclerosis folks approached the club again this year asking for our help with the event. As usual the club rose to the occasion to provide our services and we had a great turnout of members. The walk would not have been complete without the usual threat of wet weather and we weren't let down. The temps were good for the start but it didn't take long for things to go south quick, the rains came and in a big way! This despite the appearance of Jack Roper who said it wasn't going to rain. Strangely enough he was nowhere to be found later ha, ha. At least there was cover provided by the small pavilion at the park. Refreshments were provided there after the event despite the down pouring rain .All in all, the walk was a success. Club members who gave their time were Jim Campbell W4BQP, Art Patterson KE4EAN, Fritz Nitsch W4NTO, Robert Cockman WD6ELK, Randy Clair KI4CQO, Larry Thompson W4USC, Steve Wilzbacher K4SAW, and Christina Wilzbacher. Thanks for making this another success.
***********************************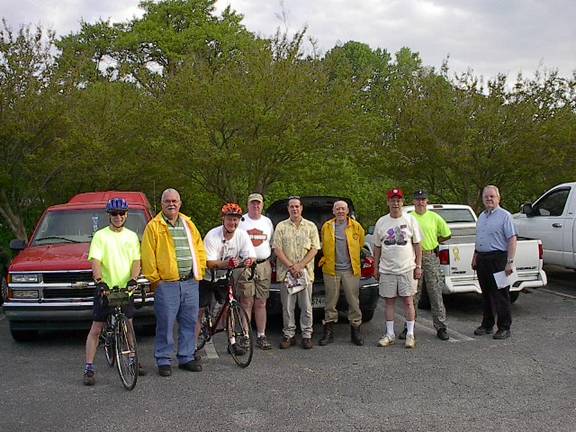 Pictured above are those who participated this year for the 2008 March of Dimes: LES MACBAY- W4LSO, MIKE THOMPSON- KE4KMA, MIKE BONNER -KI4AWC, WAYNE DAVIS- K4SPA, JESSE SMITH-K4MSS, FRITZ NITSCH-W4NTO, LARRY THOMPSON-W4USC, TED BUTTONS-W4ERD, AND JIM CAMPBELL-W4BQP. NOT SHOWN : ART PATTERSON-KE4EAN, KAREN MARMET-KF4BLF, RANDY CLAIR-KI4CQO and STEVE WILZBACHER-K4SAW.
April 26th ..... The March of Dimes Walk Held their annual event in Spartanburg at Barnett Park and we were, once again, there when asked to provide our communications skills to support the walk. The weather was great with the temps mild and the skies partly cloudy. All went well without a hitch and the club had an excellent turnout of club members (13) with all water stops and sag vans being covered. This year we even had two members who rode the event on bicycle which proved to be an added asset. They could maneuver the course much better to keep a eye on things and radio back to the net control or "poop vans " for assistance Once again after the event all volunteers were invited to come back to Barnett Park afterwards for food and refreshments and talk about how things went. Thanks to all for their time to make this years go smooth and a success once again.
Many thanks to Steve Wilzbacher - K4SAW for the contribution of these articles.